ABOUT CAT SPA
&
CAT RYOKAN
Our purpose of cat spa is to provide a place for everyone with little entertainment by covered in cats, gaze at cats.
Cat ryokan is to provide a dreamy time for everyone with gazing cats while sleeping.
Our place is that not only enjoying the interaction with cats = Cat Spa, as well as provide all cats a chance to get the best care, safety and loving home.
Our concept: We reproduced the "Japanese style public spa", known as "Onsen".
Mt. Fuji is drawn on the wall. It makes us feel nostalgic.
You can just lie down on tatami mats, enjoy footbath, gaze at cats, play with cats…this unique experience will make you feel so comfortable and healthy.
What we hope sincerely is that our place will make wonderful time for all customers and cats.
What is the "Cat Spa"?
It's a like forest bathing or sunbathing. You will be cover in cats and it makes a healthy body and mind. We called it "Cat Spa"
Also, it will be good training for cat to be friendly with people.
We aim to popularize the Cat Spa by providing a place for healing body and mind.
Our SERVICES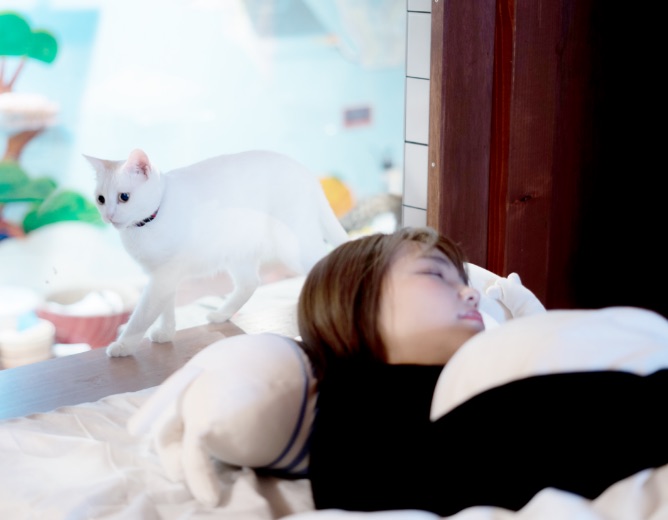 This is the world's first hostel as adjacent to cat cafe. The concept comes from a tavern of Edo period.
You can gaze cats or cats may watch over you while sleeping.
Please enjoy your stay.
* Guests can use a free pass to enjoy our cat cafe. (Until closing time)
BOOK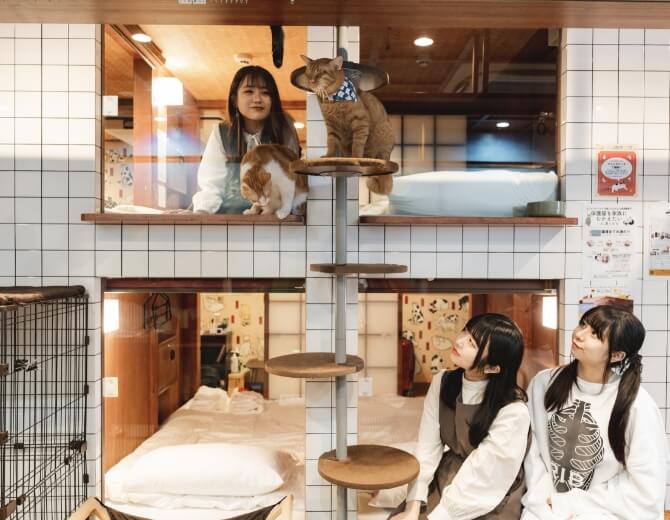 It's a like forest bathing or sunbathing. You will be cover in cats and it makes a healthy body and mind.
We recommend having Cat Spa on a regular basis, for one hour every month.
A portion of proceeds will go to cat food and medical expense.
PRICE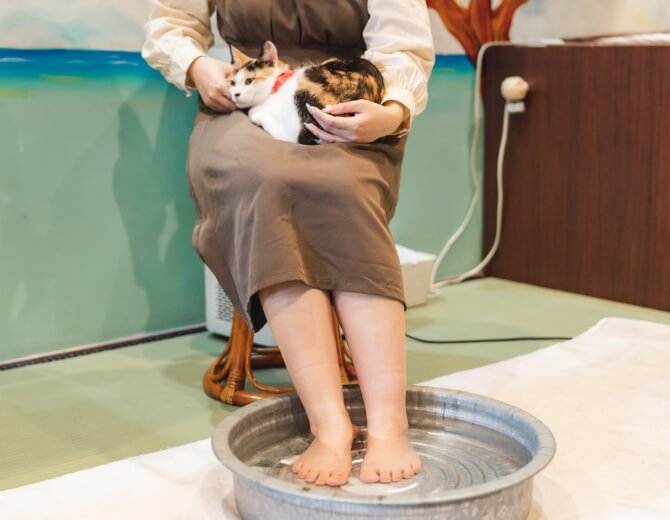 Cat may sit on your lap while you enjoy footbath.
Get warm!
PRICE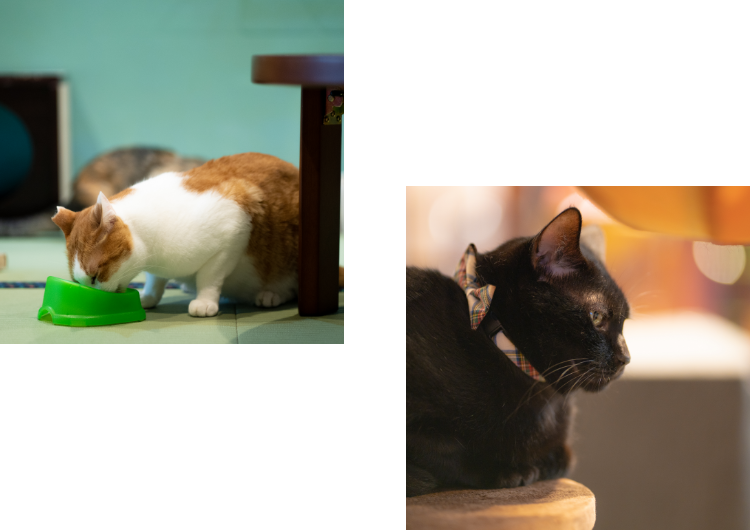 Most Instagrammable spot!!
Relaxing cat on the cat step against the Mt. Fuji wall art.
Cat landing space (The best shot will be taking photo from the outside)
Post your favorite photo on Instagram with #nekoyokujo and #necorepublic for a chance to win a 10 min free trial ticket at CAT SPA.
Health programs
of
Cat spa
*It's not medical practice

Cats are not just cute and furry companions, they can also be good for your health.
Scientists have found that a cat's purr reduces stress levels and lowers blood pressure, also make positive feelings, gives your immune system a boost.
It also says that the frequency of a cat's purr, between 20 and 140 Hertz, can facilitate bone density and healing.
Best way to enjoy
Gently pet the cat's cheeks and chin. Use gentle pressure and slow, strokes down the back.
The "sweet spot" is usually at the end of the back. Then cat may start purring.
When cat relaxing against the Mt. Fuji wall, it will be unique atmosphere.

Mofu mofu ryohou is that makes healthy mind by touching and staring cats.
Owning a cat can reduce the risk of heart attacks and strokes by more than a third, researchers have found.
The finding was the main result of a 10 years study of more than 4,000 Americans by researchers at the University of Minnesota's Stroke Institute in Minneapolis.
The point is, we assume that it would be likely to keep in shape if regally have "Cat Spa"!
Also We, humans, are social animals; oxytocin affects us to have less stress and maintain healthy social relationships. And a cat promotes oxytocin in human by just cuddling, touching. Even better, just looking at cats would promote oxytocin production in us.
How amazing to be able to trust and be gentle to others by stroking a cat?

Nikukyu ryohou is that to be healed by touching cat paw pad/ toe beans.
Scientists have found that would reduce stress levels and lowers blood pressure by touching cat paw as well.
But you shouldn't touch them forcibly.
Best way to enjoy
The big chance to touch cat's paw if they ask you to cuddle. Then enjoy touching casually and gently.

Neko on shippu ryohou is that get warm by cuddling cat.
You can get your tummy or waist warm if they let you cuddle. It's like heat pad.
A cat's normal body temperature can range from 40-42 °C.
It will be a suitable temperature to improve the circulation of the blood.
Best way to enjoy
This program only available with cats which are get used to hold.
You can let them to sit on your tummy, lap. Patience is the key to success.
If cat comes on your lap, don't move! Just feel warm and meditate.
We recommend having "Cat Spa"
on a regular basis,
for one hour every month.
PRICE List
*All listed prices are excluding tax.
Cat Spa (cat cafe)
weekday
weekend (holiday included)
every

10

min
every

10

min

¥200

¥250
| | | |
| --- | --- | --- |
| weekday | every 10min | ¥200 |
| weekend (holiday included) | every 10min | ¥250 |
Unlimited drink
¥350This drink menu is required to order with basic system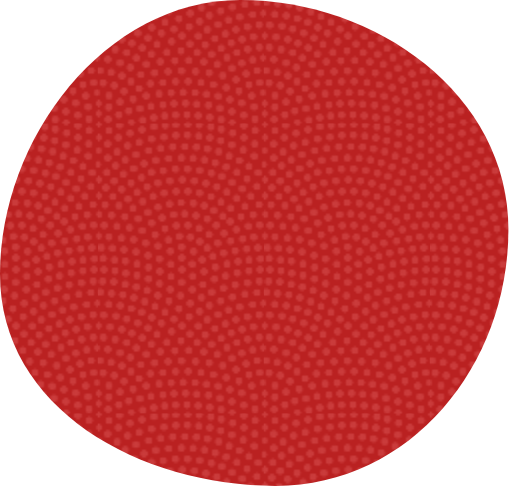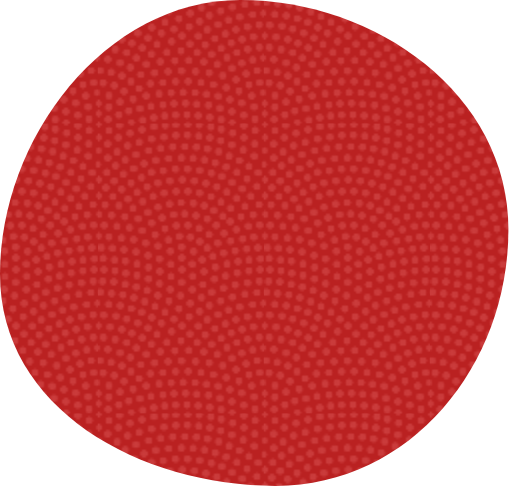 CAT RYOKAN (stay)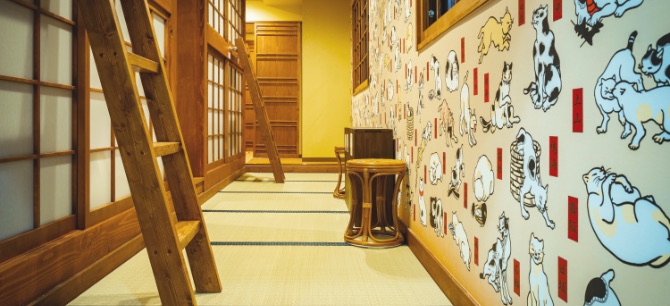 1 night for 1~8person ¥22,728 (excluding tax)
BOOK

Contact
TEL :06-4708-3889(12:00-20:00)
MAIL:neco-osaka@neco-republic.jp

Cat Ryokan facilities
Shower

Toilet

Wash basin

Clothes hanger

Security box

Garbage can
Cat Ryokan facilities
・Shower
・Toilet
・Wash basin
・Clothes hanger
・Security box
・Garbage can
Shampoo

Hairdryer

Towel set

Skincare set

coffee and more
Cat Ryokan Amenities
·Shampoo
·Conditioner
·Body soap
·Hairdryer
·Hand soap
·Cleansing
·Skincare Set
·Facial wash
·Lotion
·Emulsion
·Lint roller to remove cats hair
·Bath towel
·Face towel
·Toothbrush set
·coffee and more
CAT RYOKAN original towels are available for sale. please take it for souvenir
The bed space
Bed type The bed space has two layers, the upper row is for 2 people and the lower row is for one person.
Benefits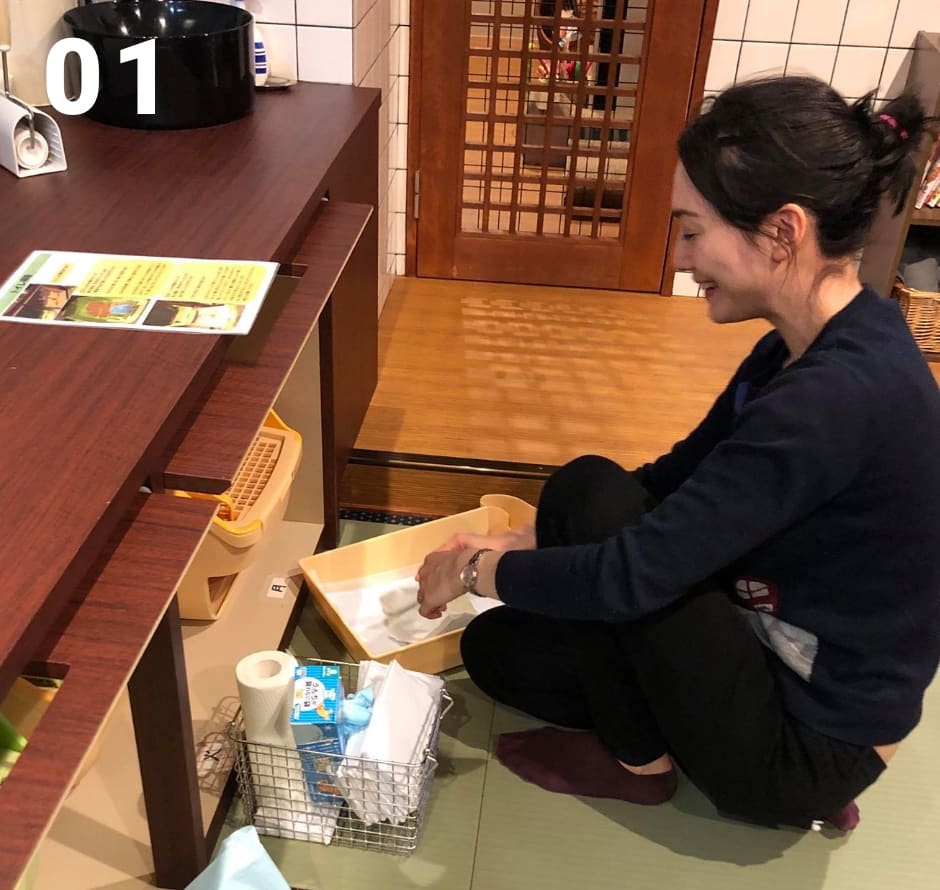 Neko republic banknotes: its available for Cat Spa
2 hours worth of vouchers that can be used at the Cat Spa Neko Republic Osaka.
We present to all our hotel guests.
You can use it before check-in or after check-out.
It can be used at a later date.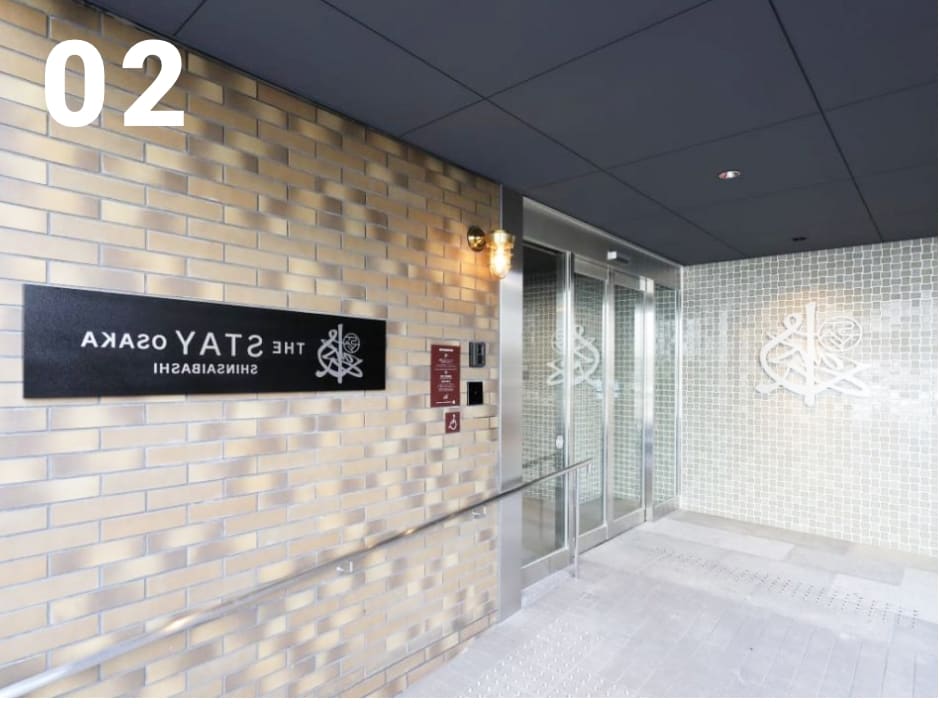 world's first?
An accommodation facility where you can experience cat care.
After the catcafe closes and before the opens, you can experience cat care in a private state with the staff only for guests!

Do for many cats, such as cleaning rooms and toilets and brushing cats, this is a lodging facility where people who have never lived with cats, can also experience how is life with cats.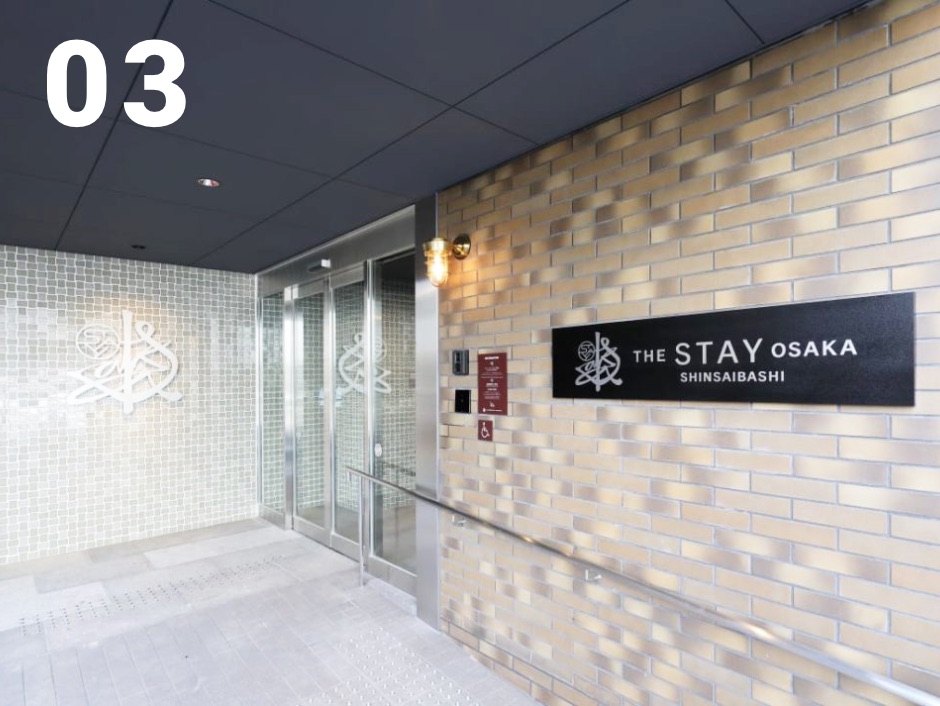 Lounge Floor.
Hotel guests can use the lounge area of the largest Japanese hostel THE STAY OSAKA SHINSAIBASHI on the second floor for free. There is shared kitchen etc.
You can relax at sofa space.

And there is also a desk space where you can work with a computer.

Until 23:00, Opening bar. (Drinks will be charged separately.)

To enter 2nd floor lounge, you need to wear "CAT RYOKAN"wrist band which you received at Check in desk. Only those with a "CAT RYOKAN" wristband can enjoy free coffee, tea and more in the lounge.

If the CAT RYOKAN shower room is in use, a shared shower room on the second floor is also available. Use of the shower at second floor requires a ticket. Please hand the shower ticket to the reception of THE STAY OSAKA SHINSAIBASHI at the second floor.
ACCESS
1F, 1-14-29, Shimanouchi, Chuo-Ward, Osaka, Japan, 542-0082
Osaka metro Nagahori-basi station 1min walk from exit No.6
許可・認可
第一種動物取扱登録  展示:大阪190036E号 登録日:令和元年7月8日 有効期限:令和6年7月7日 責任者氏名 西窪 直美
簡易宿泊業許可:大阪市指令 大保環第19-2717号
All cats of CAT SPA and CAT RYOKAN are waiting new home.
Even though playing with cats, it will be good training for cat to be friendly with people.
Also, a portion of proceeds will go to cat food and medical expense.
So let's enjoy and to be happy with cats at CAT SPA and CAT RYOKAN.
Q&A
Do I need a reservation for cat cafe?

Reservation is not required. But may not be able to admit if cafe is crowded.
Please feel free to contact us if you wish to make a reservation.

What should I be careful with entering cat cafe?

We're asking customers to wear socks. To prevent an infection.
The infection may be spread from sole, so please disinfect your sole and hand with the sanitizer.
It will be not allowed to admit if you are barefoot or wearing stockings.

Why do I need to disinfect hand and sole to enter cat cafe space?

To prevent an infection or virus to spread out through human.

Are children allowed at cat cafe?

Children can admit, but please note that all children under a middle school student must be accompanied by a parent or guardian.
Also need the admission fee at adult rate.
*Occasionally may be offering a discount for children in the event or campaign.

Is there any smooth way to go in cat cafe?

We're asking customers to fill out an application form. You can fill out on mobile phone or PC in advance.

Please access here 「

Necorepublic Immigration confirmation

」, and fill out the application, complete registration, you can save the screen.

Please show the screen you saved to our staff before entering the cafe.

*We will make the passport to you for your next visit.

What is the passport?

The passport will be issued on your first visit.
We're offering a privilege, according to frequency of visiting.

What should I do if wish to be foster parents?

Please contact us.

There is required to pass inspection.

The required step is following:

Answer a foster parent questionnaire 
Have an interview with our staff
Submit the required documents (Application form, Photos of inside house)
If you pass the inspection, we will deliver cat to your house and starting trial for 2 weeks
We visit after 2 weeks trial and officially you can be a foster parent if everything ok with both of them.
The contract of foster parent will be concluded.

We will contact you by email or phone call if we consider that you don't meet the requirements on each step.

Can I be a foster parent even if I live alone?

Yes, you can.
We, neco republic conduct the fairy judgment to everyone and cherish the trust to proceed. So, it doesn't affect the process of foster parent.
Also we consider that compatibility is important, so we might not be able to meet your request.
For further assistance, please feel free to contact us.

Can I donate a cat food if my cat doesn't eat that food?

You can donate if unopened and before expiration date. We will utilize them for our cat or animal rescue.

Can you take care of rescued cat?

We are sorry but we are not able to take the request.

How to make a reservation?

We accept reservation on our website or by phone. We ask pre-payment to confirm your reservation.

Does CAT RYOKAN provide towel or toothbrush?

We settled bath towel, face towel and toothbrush. And we sale CAT RYOKAN Original towels too.

How about amenities?

Shampoo, conditioner, shower gel are in shower room. And also for woman's amenities face cleanser, facial soap, lotion, emulsion are in dress room. There is ear plug, cotton pad, earbud too.

Bathroom, toilet

There is common shower room, and 2 toilets. You can use shower room 24hours.
If the shower room is use in crowd, you can use shower room at 2nd Floor (The STAY Osaka) until 10:00 PM.

About Lounge

Hotel guest can use share kitchen at lounge on 2nd floor "The STAY Osaka", And you can also take coffee and tea free at there. There is Bar in lounge, Alcoholic beverages and snacks are available until 10:00PM.

Ticket of Cat Spa

Guests staying at CAT RYOKANo will receive a gift of Neco-repa Banknote that are used by the Cat Spa for two hours. (Equivalents 3000 to 3300 yen) Even if you do not enter Cat Spa on the day, you can use it another day.

About cat care experience at cat cafe.

Hotel guest can experience cat care before opening (from 10:00-12:00) and after closing (21:00-22:00) cat café with café staff.
Through taking cat care, you can interact with cats taking your time.

What do I do experience cat care?

It means cat care working that cat café staff do every day.
Like a Cleaning cat toilets, vacuuming cat rooms, cleaning the floor, rugging cloth products, cleaning windows, cat food, etc.